Sports Massage at Pro-Holistic Lanarkshire - South Lanarkshire
Thursday, 19 January 2012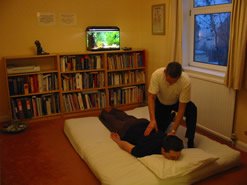 Item details
City:
South Lanarkshire, Scotland
Contacts

Des Lawton

01355266011
Item description
The Pro Holistic, Lanarkshire, clinic specialises in Sports Injury Treatment to treat: frozen shoulder, tennis elbow, golfer's elbow, groin strain, whiplash, sciatica, lumbar pain, leg cramps, etc. The sports injuries clinic is based in Lanarkshire, provides treatment for clients from the Lanarkshire, Renfrewshire, Ayrshire, and Glasgow areas.

Therapies available are:

•Massage
•Sports Injury
•Shiatsu
•Stress Management

We also use Hip Clearance (Seitai) for realignment of the hips/pelvis, and Post Isometric Relaxation & Reciprocal Inhibition (Sotai) for muscle injuries.

Our experience has shown that all of these, Oriental, treatment modalities have proved to be beneficial and effective methods of treating most sports injuries.

Whatever the sports injury is, whether it be tennis elbow or golfer's elbow, pulled muscles, torn muscles, strained ligaments, twisted ankle, lumbar pain, severe back pain, stiff neck, or any other kind of sports injury, if you contact us and make an appointment we will help you on your way to recovery.


If you wish to book a sports injury treatment session, enquire about on-site clinic availability, or require further information, please call us on 01355 266011.